Dear friends, unfortunately it seems that history has taught nothing until now and in 2022, after two years of pandemic, we find ourselves more or less directly facing the tragedies of War.
As Tango organizers in Milan we have decided to plan a solidarity Milonga in aid of the Ukrainian population who are currently fleeing from a dramatic war scenario.
The motto of the evening is We dance for Peace and represents our firm position against War.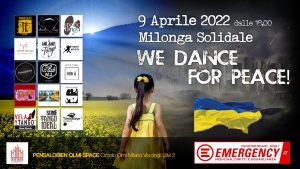 We ask you to join this initiative, the proceeds of which will be donated to Emergency and specifically to their Politruck project which for weeks has been bringing aid to Ukrainian refugees on the spot. In the last weeks, the mobile structure was positioned in Moldova to accommodate refugees who were fleeing, while now, it has moved near Odessa to be able to help the population that does not have the opportunity to escape.
The President Matteo Malaspina of Arci Olmi, the active entity in fundraising, has granted us the 400 square meter room free of charge, therefore, the entire fundraising will be donated to the Emergency project, deducting only the out-of-pocket expenses of SIAE and depending of the weather, if necessary, the heating cost.
As it is a fundraiser for a solidarity project, it will be possible to attend the event even without being an Arci cardholder.
To participate, in compliance with the legislation in force, we only ask you to fill in the following form: 
https://forms.gle/bpmJCPwZ6oQ8PNtZ8
The supportive Tango deejay will be Roberto Nicoli
During the event there will be some exhibitors/sellers of tango clothes, shoes and accessories who will in turn contribute with a donation to the Emergency's Politruck project.
The Event will be Saturday 9 April 2022 in Via degli Ulivi 2, from 18.00 to 3.00 and we sincerely hope that you too, like us, in our small way, feel the need to say NO WAR, helping the innocent victims with a small economic and symbolic contribution by participating to an evening that sees, for now, 16 Tango organizers gathered and compact for one beautiful thing!
We thank you for your attention with the hope of having you with us for an increasingly united, supportive and anti-war Tango community.
We are waiting for you in attendance for a great charity and Tango evening, but if someone who just won't be able to be there, wants to make a donation, we will send you the CC of Arci Olmi who will carry out the fundraising on which you can reclaim your donation by writing as causal We dance for Peace – Emergency. From this account, everything will then be deposited to Emergency for the PolyTruck-Ukraine project.
BANCA POPOLARE ETICA
IT93L05018 01600 000017065962
Swift BIC Code CCRTIT2T84A
***
Around Tango
Spazio Tango
Oltre Tango
Tango Touch
Pensalobien
Milano Tango
Club 76.2 ASD
Love this HUB 26
Esquina del Arte
Milonguita della Martesana
Mundo Milonguero
Vela y Tango
Milongut casa de Tango
Scimè Tango Ideal
Timbalaye danza
Bocanegra
Caffè Caribe
AnYMa Tango
(to be continued…)
Entonces
Felino Tanguero
Si DeVyL di Edwin e Vittoria
Milonguette Ileana Genoni
La Diva calzature uomo
di Francesco Lorgiola